MARCH 10TH: Community Conversation on Gun Violence Prevention & School Safety:
Join Nicole Bedi, candidate for State Representative, for this Community Conversation to discuss gun violence prevention, school safety, and our shared goals for our community. 
Our panel will feature:
Venue supported in part by Women's March Michigan. Women's March Michigan is a 501(c)(3) tax-exempt organization and does not support, endorse, or oppose any political candidates. This event is not a fundraiser and no funds shall be contributed to a candidate in association with this event.
---
MARCH 11TH: Democratic Gubernatorial Candidate Debate: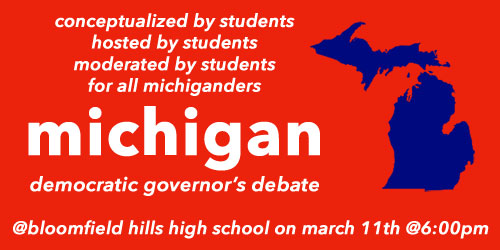 Learn more at Facebook.com/MIDebate2018 or Twitter.com/MIDebate2018
Join us March 11th at 6:00 p.m. at the Bloomfield Hills High School Performing Arts Center, 4200 Andover Road
The candidates attending are Abdul El-Sayed, Shri Thanedar, and Bill Cobbs
---
MARCH 19TH: Birmingham-Bloomfield Democratic Club Meeting:
Please join the BB Dems on Monday, March 19th from 7-9pm as we welcome the following 2018 primary candidates to speak:
We'll also be holding our annual executive board election.