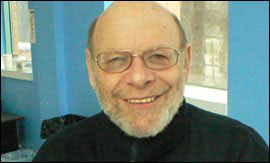 Ron Aronson, founder, Huntington Woods Peace, Citizenship and Education Project and professor (retired) Wayne State University, member of Huntington Woods Peace, Citizenship and Education Project and most recently, author of "The New Politics of Hope," an analysis of the election of 2016.
"Though it has now been overshadowed by the stunning victory of bigoted nativism—whether loudly supported or quietly overlooked by most Republicans as well as particular members of the working class—we must not forget that this year we have witnessed the groundwork being laid for a genuine revival of social hope in the United States. I do not mean a renewed faith in grand narratives or a vague and misty-eyed optimism but the tough-minded and inspired disposition to act collectively to make the world more equal, more democratic, more peaceful, more secure, and more just. Despite the defeat of the Sanders campaign, and despite Trump's victory, we must understand this hope and work to keep it alive."
Aronson has produced televised political debates on democratic values and affirmative action (participants have included Cornel West, Barbara Ehrenreich, Abigail Thernstrom, David Frum, and Dinesh D'Souza) He is co-producer of the feature-length documentary film Professional Revolutionary about legendary Detroit social and political activist Saul Wellman and, most recently, 1st Amendment on Trial: The Case of the Detroit Six, focused on the Federal government's trial of Michigan Communist Party leaders in the '50s.
The meeting will be held at the Bloomfield Township Library, located on Lone Pine at Telegraph (southeast corner). Plenty of parking. Meeting starts at 7 p.m. and we must be out of the library before 9 p.m. We hope you will come for the discussion on how we can keep our spirits up to resist Trump.