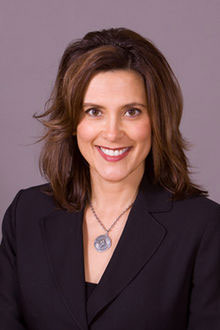 Please join us on a special night: Monday, March 13th, at 7:00pm as we welcome former State Senate Minority Leader, former Ingham County Prosecutor and current Democratic gubernatorial candidate Gretchen Whitmer. She'll be joining us at the Birmingham Baldwin Public Library, 300 West Merrill St. in Birmingham, just south of Maple Road, west of Woodward, east of Southfield Road.
Parking is available, first two hours free, at Maple and Chester parking structure, also at Pierce parking structure.
Gretchen Whitmer is a former Democratic member of the Michigan Senate and Senate Democratic Leader. She represented the 23rd District following a special election in March 2006 to replace Virg Bernero, who was elected mayor of Lansing the previous November. Whitmer was a member of the Michigan House of Representatives from 2000 to 2006. On November 5, 2010, her Democratic colleagues chose Whitmer to be the Senate Democratic Leader. In May 2016, she was selected to serve as the Ingham County Prosecutor. On January 3, 2017, Whitmer announced her intentions to run for Governor of Michigan in 2018 as a Democrat, making her one of the first to announce.