Don't forget to Like us on Facebook!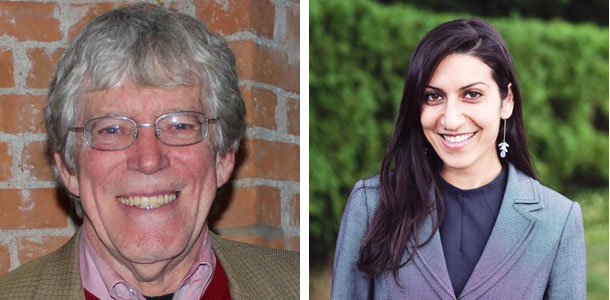 Join us on Monday, September 11, 2017 at 7:00pm for the next meeting of the Birmingham-Bloomfield Democratic Club. We will host grassroots Democratic activist Mike Whitty and Congressional candidate Fayrouz Saad, running for the Democratic nomination for the 11th Congressional District.
Place: Birmingham Baldwin Library, 300 West Merrill Street, Birmingham, 48009
Time: 7:00pm
2 hour free parking is available at all parking garages -- afterward it is $1 -- and the same credit card is required for entry and exit
---
Mike Whitty: Step It Up - What More Can We Do?
Giving the Next Elections Our Best -- Motivating Our Base to Turnout and Work Harder at the Grass Roots:
Mike Whitty will address the 2018 campaign cycle including probable ballot issues and the crucial importance for turnout. Countering voter suppression and apathy among non-voters requires organizing, educating, and strategic use of select issues to pull our base, convert apathetic potential voters to a sense of the crucial importance of this particular/historic election.
Mike will put a personal touch on all of this with a focus on building our life legacy as civic minded people through a heightened involvement. The future is at stake and we have a chance to create the hopeful and positive future.
Let it be said by our grandchildren that we stood for tolerance and decency when the battle for the future was fought in 2017.
Mike Whitty has been a Democrat since 1960 when he joined the Young Dems at the University of Detroit. He's a civil rights veteran of Mississippi (1964), Selma (1965) and Detroit (1967). He believes Black Lives Matter. Mike was a delegate to the National Democratic Convention in 2016 from the 11th district. He has been giving talks to Dem clubs and various civic groups for years following his retirement as a professor at University of Detroit Mercy, generally focused on what positive steps people can take to make things better. Imagine his final challenge making something positive out of the Trump Era. Mike does believe Trump's Lies Matter but urges us to respond in the positive by stepping up our GOTV, pulling our base and winning 2018 for the sake of America's future and human unity.
---
Fayrouz Saad, candidate for Congress (MI-11) will also be presenting why she is running.
Fayrouz was born and raised in Michigan and has spent her career serving the public, most recently for Detroit Mayor Mike Duggan.
A proud graduate of Michigan public schools and the University of Michigan, Fayrouz has worked at every level of government to keep our communities safe and to expand opportunities for families in Michigan. Fayrouz learned the value of hard work from her parents, who immigrated to Michigan more than 40 years ago and started a small business in Detroit's Eastern Market. A proud progressive, Fayrouz learned from her parents that through hard work and determination anyone can achieve the American Dream. Fayrouz is running for Congress to make sure we keep that promise alive for all Michigan families.
After graduating from the University of Michigan, Fayrouz began her career as a field organizer for the Kerry Campaign working in Michigan's 11th Congressional District. She went on to work for Michigan State Representative Gino Polidori, where she led successful efforts to reform foster care, securing unemployment benefits for military spouses and banning texting while driving.
In 2008, inspired by Barack Obama's energy and message, Fayrouz joined a non-profit organization to encourage civic engagement and voter participation. Fayrouz then accepted an appointment in President Obama's Administration at the Department of Homeland Security (DHS), where she worked to strengthen community policing efforts in the fight against terrorism, protect state and local critical infrastructure, and strengthen our nation's cybersecurity. After the Deepwater Horizon oil spill wreaked havoc along the Gulf Coast in 2010, Fayrouz helped coordinate the Department's emergency response efforts to stop the spill and clean up our coasts.
After serving in the Obama Administration and completing a Master's Degree from the Harvard Kennedy School of Government, Fayrouz returned home to Michigan to contribute to Detroit's revitalization. In 2015, Fayrouz became the first Director of Detroit's Office of Immigrant Affairs under Mayor Mike Duggan - where she helped immigrants integrate into the city, find jobs and start businesses. Fayrouz also served as the Board Chair for Emgage-USA MI – an organization she helped launch that fosters civic and electoral participation within the Muslim-American community.
Fayrouz is a marathon runner, and she lives in Northville with her husband, Chris, who works at Ford Motor Company.