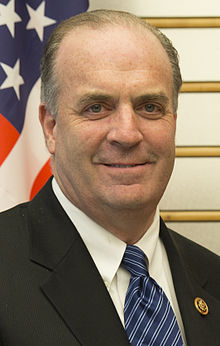 Our next meeting is Monday, May 8 at 7:00 pm at the Bloomfield Township Public Library, in the  Leslie Harcourt Green Community Room on the main floor.
The meeting will be held at the Bloomfield Township Library, 1099 Lone Pine at Telegraph Bloomfield Hills 48203 (southeast corner). Plenty of parking. We hope you will come for the discussion on how we can  resist Trump's policies and actions.
Born and raised in Flint, Congressman Dan Kildee is a lifelong Michigander. In Congress, he serves in various leadership positions. As the Vice Ranking Member of the Financial Services Committee, Congressman Kildee leads the fight to protect consumers, ensure affordable housing, and keep money out of the hands of terrorists and bad actors. Congressman Kildee previously served as a member of the President's Export Council, advising President Obama on fighting against trade deals that are bad for Michigan families. Moreover, as a Vice Co-Chair of the Automotive Caucus he works to promote the American auto industry and bring good paying jobs back to Michigan.
Before being elected to Congress, Congressman Kildee co-founded and served as the president of the Center for Community Progress, a national non-profit organization focused on urban land reform and revitalization.
He also founded Michigan's first land bank – the Genesee County Land Bank – which is responsible for tens of millions of dollars in redevelopment in Flint. The Genesee County Land Bank later served as a model for over 100 other land banks across the nation.
In 2013, when neither the government nor the mainstream media provided consistent, reliable reporting of enrollment data for the Affordable Care Act, Charles launched ACASignups.net as a hobby, using crowdsourcing to track enrollments in real time.
His work soon caught the attention of major media outlets, and has been cited and used as a resource ever since by media outlets spanning the ideological spectrum including the Washington Post, Forbes, Bloomberg News, Vox.com, MSNBC, the New Republic, USA Today, the CATO Institute, National Review Online and The New York Times among others, as well as prominent medical journals such as the New England Journal of Medicine and The Lancet.
Since launching this project, he has expanded his analysis to include the impact of the ACA's Medicaid Expansion, SHOP exchange, BHP provision and a variety of other Obamacare-related programs.
He has also expanded into tracking things like off-exchange individual market enrollment, annual premium rate change averages and a wide range of healthcare policy/health insurance-related issues, including the pros and cons of moving towards single-payer healthcare, the "public option", lowering the Medicare eligibility age, and so on.
---
Please also take note of this event being held at the Birmingham Unitarian Church regarding escalating economic inequality:
April 20 - Part 1: The Fall and Rise of Income Inequality -- Charles Ballard, Professor of Economics, Michigan State University. Part 2: Jobs in a Second Machine Age -- Lou Glazer, President, Michigan Future, Inc.
Part 1: In the first half of the 20th century, the U.S. economy experienced a "Great Convergence," with incomes of low- and middle-income Americans growing much more rapidly than the incomes of those at the top. Since the 1970s, income inequality has moved in the opposite direction, resulting in a degree of inequality at least as great as a century ago in both Michigan and the U.S. as a whole. Neither happened by accident. Prof. Ballard will discuss the economics and policy behind this shift.
Part 2: Smarter and smarter machinees are increasingly able to perform, better and cheaper, functions that have traditionally been done by humans. That makes jobs, occupations and even industries less stable today than yesterday and, almost certainly, less secure tomorrow than today. What skills and jobs will make Michigan more prosperous and more equal in the future, or less so if we don't prepare to have those skills and jobs?