Posted on Tue, 01/05/2016 - 12:00am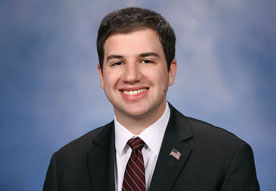 Issues being discussed by the Michigan State Legislature will be reviewed by Representative Jeremy Moss when he speaks at 6:45 p.m.  Wednesday, January 13 to the Birmingham-Bloomfield Democratic Party. The meeting will be at Groves High School in Beverly Hills.
Moss is the 35th Michigan House Representative for Beverly Hills, Bingham Farms, Franklin and Southfield.  He will discuss his efforts toward nonpartisan redistricting and expanding the Freedom of Information Act to include the Michgan legislature and the governor's office. He also will discuss the 2016 election and the Blueprint for state families.
Representative Moss sponsored House Bill 4800 and co-sponsored a house resolution to create a nonpartisan redistricting commission to set political boundaries. "In many Michigan districts," Moss says, "boundaries have been carefully drawn to advantage incumbents."
He tells voters, "You deserve fair and competitive elections.  Polls have shown that most voters want politics taken out of the redistricting process."   He advocates a  Blueprint for Michigan's Families, which  targets the rising costs of raising a family and paying for college.
Further information is available by phoning Matthew Lund, president of the Birmingham-Bloomfield Democratic Club at 248-359-7300, or through the club's website, www.bbdems.org.  Lund invites the attendance of community residents interested in current issues.