Posted on Tue, 01/05/2016 - 12:00am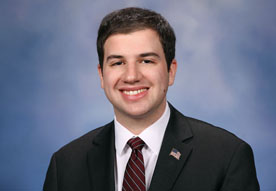 Issues being discussed by the Michigan State Legislature will be reviewed by Representative Jeremy Moss when he speaks at 6:45 p.m.  Wednesday, January 13 to the Birmingham-Bloomfield Democratic Party. The meeting will be at Groves High School in Beverly Hills.
Moss is the 35th Michigan House Representative for Beverly Hills, Bingham Farms, Franklin and Southfield.  He will discuss his efforts toward nonpartisan redistricting and expanding the Freedom of Information Act to include the Michgan legislature and the governor's office. He also will discuss the 2016 election and the Blueprint for state families.
Representative Moss sponsored House Bill 4800 and co-sponsored a house resolution to create a nonpartisan redistricting commission to set political boundaries. "In many Michigan districts," Moss says, "boundaries have been carefully drawn to advantage incumbents."
He tells voters, "You deserve fair and competitive elections.  Polls have shown that most voters want politics taken out of the redistricting process."   He advocates a  Blueprint for Michigan's Families, which  targets the rising costs of raising a family and paying for college.
Further information is available by phoning Matthew Lund, president of the Birmingham-Bloomfield Democratic Club at 248-359-7300, or through the club's website, www.bbdems.org.  Lund invites the attendance of community residents interested in current issues.
---
A MESSAGE FROM 2014 MICHIGAN ATTORNEY GENERAL CANDIDATE MARK TOTTEN:
Dear Friend,
I'm heading to Iowa on January 29th to help Hillary become our nation's next President. Can you join me?
As Democrats, we're blessed with strong candidates for President who make us proud. But from day one I've been with Hillary. She shares my values. She's prepared to lead. And she's our best chance to win with so much at stake. And let me add: I'm excited to elect our nation's first female President!
I have friends on the other side of this contest -- and maybe you're one of them -- but if you're supporting Hillary, would you consider joining me on a road trip to Iowa?
Here's the details:
Who: Michigan supporters of Hillary.

What: Iowa road trip to volunteer the few days before and during the historic Iowa Caucus.

When: Depart by Friday, Jan. 29 @ 9am. Return by Tuesday, Feb. 2 @ 9pm.

Where: Des Moines, Iowa.

Why: The campaign needs volunteers and Michigan isn't that far away.
And a few more specifics. The campaign aims to provide lodging for each volunteer. Individuals will pay for their meals and a share of transportation costs for car pooling. Travel time is 6 - 9 hours (+ stops) from the lower-half of the state, depending where you live. The campaign will make assignments based on where they most need volunteers.
To sign-up please fill out this form. Deadline: Wednesday, January 13th @ 9pm. If you have questions, email me or contact me by phone at (248) 607-0810.
Thanks and happy New Year,
Mark Totten
#ImWithHer
P.S. If you have friends who might be interested, please forward this email. Thanks!