Posted on Mon, 07/09/2012 - 12:00am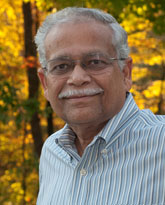 If you live anywhere in the new 11th U.S. Congressional District (see map below), please make certain to vote for DR. SYED TAJ in the upcoming August 7th Primary Election.
In addition to being a solid progressive Democrat, Dr. Taj is also the former Chief of Medicine at Oakwood Hospital and was the first Democrat elected in decades as a Canton Township Trustee. He's been endorsed by the Birmingham-Bloomfield Democratic Club, the Oakland County Democratic Party, U.S. Senator Debbie Stabenow, the Michigan Nurses Association, the American Federation of Teachers and just about every local Democratic elected offical and leader.
His primary opponent, on the other hand, is a Lyndon LaRouche supporter named William Roberts, who openly calls for the impeachment of President Obama and whose official campaign website features photos of Pres. Obama with a Hitler moustache. Needless to say, that sort of rhetoric and message is not only unacceptable from a so-called "Democrat" but from any respectable Congressional candidate.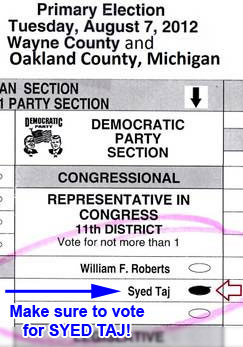 Thanks to Dr. Taj being an excellent candidate and running a solid campaign already, the spectacular, jaw-dropping downfall and abrupt resignation of incumbent Republican Congressman Thaddeus McCotter from the 11th District has given Dr. Taj a real shot at winning this normally Republican-leaning district. However, in order to do so, he first has to beat the LaRouche candidate in the August primary.
If you live in any of the following municipalities, you're part of the new 11th District; please make sure to vote for SYED TAJ on August 7th, along with U.S. Senator Debbie Stabenow:
In Oakland County:
Auburn Hills • BIRMINGHAM • CITY OF BLOOMFIELD HILLS • Clawson (pcts. 2 - 6) • Commerce Twp. • Farmington • Highland Twp. • Lake Angelus • Lyon Twp. • Milford Village & Twp. • Northville • Novi • Novi Twp. • Rochester Hills (pct. 3, 6 & 13) • South Lyon • Troy • Walled Lake • Waterford • West Blfld. Twp. (pct. 2, 4, 5, 8, 14, 18, 25 & 27) • White Lake Twp. • Wixom
In Wayne County:
Canton Twp. • Livonia • Northville • Northville Twp. • Plymouth • Plymouth Twp.